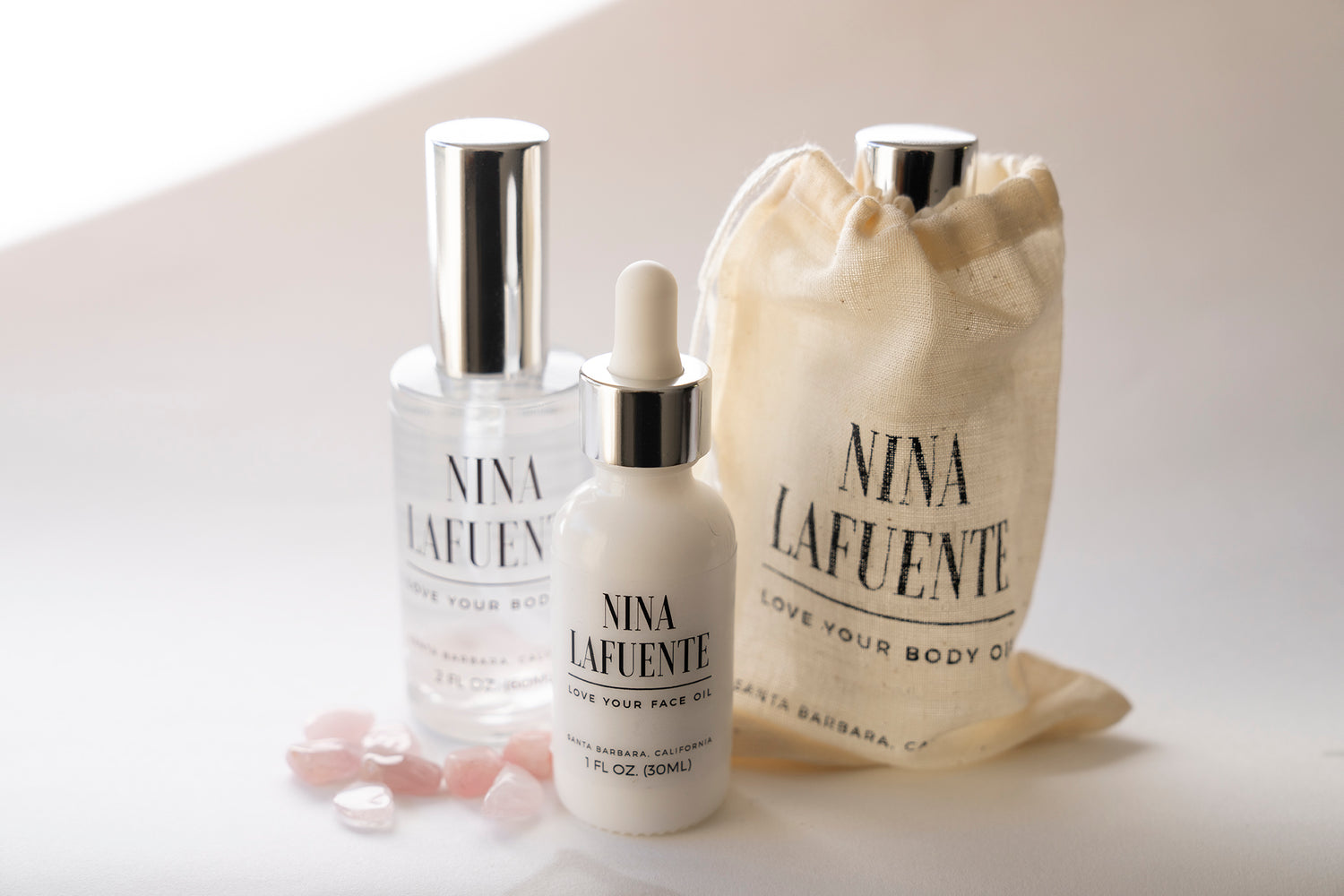 Luxury skincare oils
Find your new favorite face & body oils. Each bottle is carefully crafted, with love, in small batches by Nina herself.
SHOP NOW
Testimonials
LOVE YOUR BODY OIL

★★★★★
KAREN GRAY

Every time I use my Love Your Body Oil, I think "this stuff is amazing". It cures literally everything. Dry skin. Razor bumps. My son's mild eczema. It's truly magical. Thank you!!

LOVE YOUR FACE OIL

★★★★★
SYDNEY C

I have incredibly sensitive skin so I was a bit hesitant to try a new product. I'm so so happy I did! I absolutely love it and it has done wonders for my skin. It's so hydrating, light, nourishing, and the smell is heavenly! I can't recommend it enough! 

LOVE YOUR BODY OIL

★★★★★
E. WILLIAMSON

I can feel the love that is in 'Love Your Body Oil'! It is refreshing, nourishing and calming, with a splash of crystal magic thrown in. I use it whenever my skin needs some extra special care.
LOVE YOUR FACE OIL

★★★★★
SUSAN B

I love it. It's light, but moisturizing enough for my "mature skin" lol. I use it during the day with sunscreen. No breakouts or weirdness- I have super sensitive skin, so trying new products can be tricky. Will definitely be getting more when I run out.

LOVE YOUR BODY OIL

★★★★★
ERIN HEIDE

I've been using your #loveyourbodyoil on my neck just about daily and face a couple times a week and OH. MY. GOD. like what?! Is ambrosia one of your secret ingredients!? Did the gods of Olympia actually come from Santa Barbara?!

LOVE YOUR FACE OIL

★★★★★
HEATHER N

I use Love Your Face oil 3 times a week as part of a gua sha practice. The fragrance is calming and centering and my skin is smoother and more luminous.
Free shipping on all orders

Every single order ships for free. No minimums, no fine print.

High quality handmade skincare oils

Carefully crafted with love in small batches by Nina at her studio.

Timely shipping on all orders

All orders ship out within 1-2 business days vis USPS first class shipping.

Pay monthly for your purchase

Pay back in monthly installments/prepay at any time.
About Nina
All the oils are handcrafted in small batches out of my studio in Santa Barbara California, where I have been a licensed esthetician for almost 20 years.
LEARN MORE