NINA LAFUENTE
Regular price
Sale price
$60.00 USD
Unit price
per
Sale
Sold out
Love Your Face Oil is a luxurious blend of natural ingredients designed to nourish and protect the skin. Each bottle is carefully crafted in small batches by Nina herself, with intention and love, to ensure the highest quality product. Love Your Face Oil is an excellent choice if your looking to improve the appearance of your skin or simply want to give yourself a little self-care. 

Share
View full details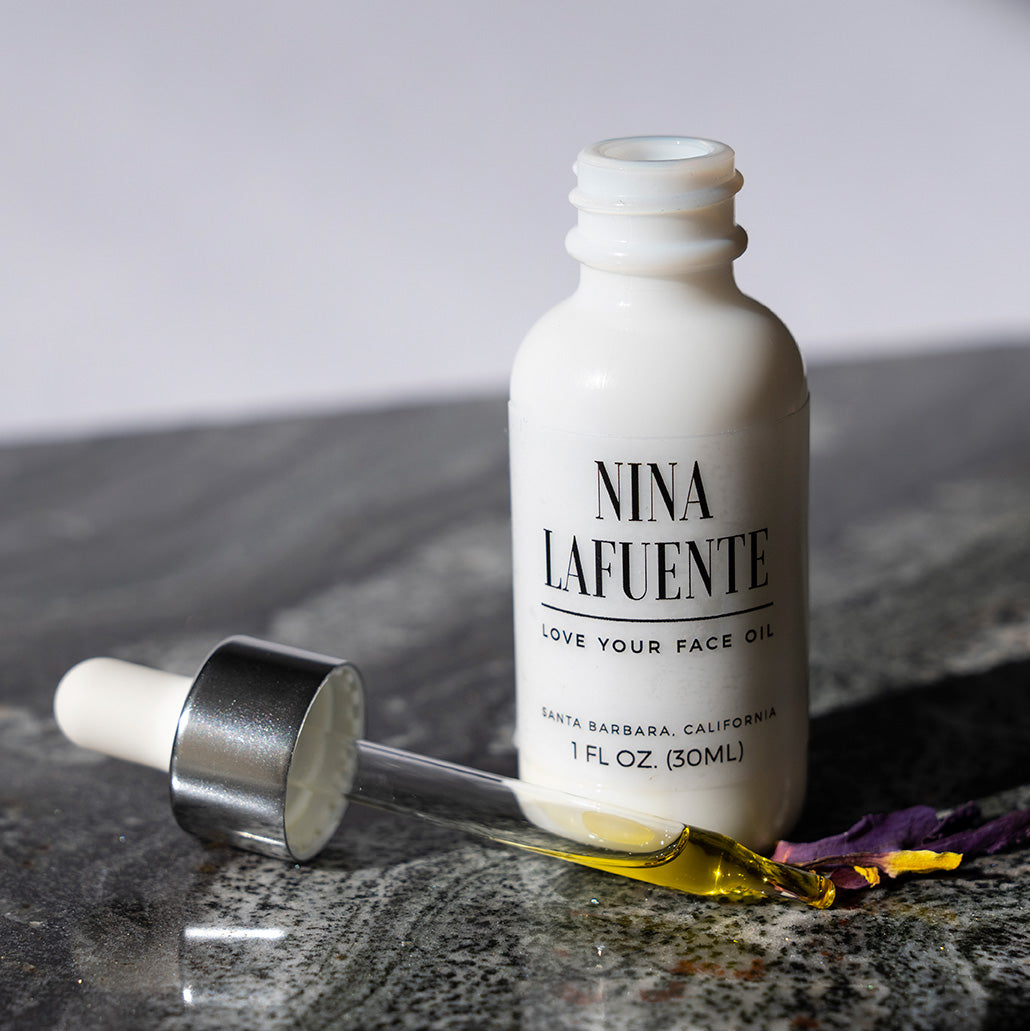 What our clients have to say
★★★★★

SYDNEY C

I have incredibly sensitive skin so I was a bit hesitant to try a new product. I'm so so happy I did! I absolutely love it and it has done wonders for my skin. It's so hydrating, light, nourishing, and the smell is heavenly! I can't recommend it enough! 

★★★★★

SUSAN B

I love it. It's light, but moisturizing enough for my "mature skin" lol. I use it during the day with sunscreen. No breakouts or weirdness- I have super sensitive skin, so trying new products can be tricky. Will definitely be getting more when I run out. 

★★★★★

HEATHER N

I use Love Your Face oil 3 times a week as part of a gua sha practice. The fragrance is calming and centering and my skin is smoother and more luminous.
Ingredients
Blue Lotus Oil
The most unique ingredient in Love Your Face Oil. Used in ancient Egypt for its calming and anxiety-relieving properties. 

Moringa oil
Rich in antioxidants, vitamins and fatty acids, it helps nourish and improve the skin's appearance.

Carrot Seed Oil
Improves elasticity of the skin and reduces the appearance of fine lines and wrinkles. Rich in beta-carotene, a powerful antioxidant that protects the skin from free radicals.

Rose Hip Oil
Improves skin texture while reducing the appearance of scarring. Rich in vitamin C, it helps brighten skin and improves overall appearance.

Rice Bran Oil
Rich in vitamins B and E, as well as fatty acids, it moisturizes and nourishes the skin. High in antioxidants, to protect the skin from environmental damage.

Squalane Oil
Similar to the oil our skin produces, an excellent choice for maintaining healthy, moisturized skin. High in antioxidants, protecting the skin free radicals.

Rosemary Oil
Enhances blood circulation to the skin, improving its overall appearance. 

Lemongrass Essential Oil
Improves the tone and texture of the skin.

Lavender Essential Oil
Natural in antibacterial and calming properties.
FAQs
Why should I use a face oil? 

Facial oils can keep skin youthful and healthy because they contain essential ingredients like antioxidants and pass through the skin quickly, preventing water loss while keeping skin plump. Antioxidants also boost collagen production and strengthen skin elasticity. 
Can you put foundation over face oil?

There are two ways to go about mixing your foundation and facial oil. You can either add a couple of drops into your foundation, or you can apply the oil directly onto your skin as a foundation primer. 
Do I need moisturizer after face oil?

More recently – thanks to science-backed research it is now widely accepted that a face oil should go on after a moisturizer or mixed with it. Face oil can oil be used in place of a moisturizer as the last step in your skincare routine. 
When do I apply sunscreen when using a face oil?

Apply face oil before sunscreen.
From the Founder
Take care of yourself. The act of self-care is a way to heal and connect with our bodies. 
—NINA LAFUENTE